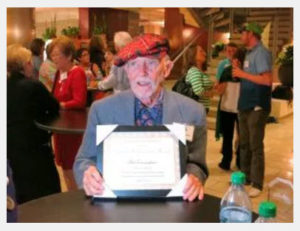 Chet Cunningham
December 9, 1928 – March 14, 2017
Chet Cunningham, a beloved San Diego writer, and founder of the San Diego Book Awards Association has passed after 88 years of life–a life which changed the very culture San Diego writing and writers.
"Chet was a tremendous inspiration to me and shaped my life by introducing me to the San Diego Book Awards Association, where we worked together for fifteen years. Yet of all of his achievements, it was his relationship with his wife, Rosie, that inspired me most. If I can be half the man and husband he was, I will consider myself a success." -Former SDBAA President Bradley Steffens
Jean Forsythe, President of SDBAA had been in contact with him about the "Chet Cunningham Spur Award" for best unpublished entry (one of his personal passions was to promote unpublished writers in San Diego). SDBAA Board members were all excited about the ceremony June 10, 2017 at the Sheraton La Jolla Hotel. He was going to try to attend and present the "Chet" for the first time.
San Diego Writers will feel the ripples of this man's life for generations.