Frequently Asked Questions
FREQUENTLY ASKED QUESTIONS
I'm a previous winner, and I need more stickers. Can I buy more?
We have as many as you need! Please send us a message at sdbookawards@gmail.com for purchasing details.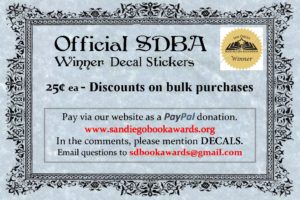 Can I submit before or after "Call for Entries" in my genre window?
The entry window for the 2017 contest is closed. Please check back soon for finalists, winners, and ceremony details.
I have my first 30 pages ready to be submitted in the unpublished category, do I still need a complete manuscript if I qualify?
YES! Si! Ja! Oui, oui!
Judging unpublished novels and memoirs is a two-step process. The first 30 pages are judged to determine who the finalists will be. If you are a finalist you will be notified by phone or email. Finalist names will be posted on the San Diego Book Awards web site. If you are not a finalist, your 30-page entry will be returned to you at the end of the contest
If you are a finalist you will be notified by phone or email. Finalist names will be posted on the San Diego Book Awards web site. If you are not a finalist, your 30-page entry will be returned to you at the end of the contest only if you have included an S.A.S.E. with sufficient postage (See submission guidelines). If you are notified that you are a finalist, your first 30 pages will be returned to you so, if you wish, you may make changes based on the judges' comments. After that, you will have approximately one week to send in your entire manuscript, so be sure to have it finished. If it is not, your status as a finalist will be revoked and you will not be able to participate in the final competition.
Can I submit my entry in more than one category?
No. Choose your category carefully. One entry, one category. If more than one category is circled on the entry form, your entry will be judged in the first category circled. Also, multiple submissions of the same entry will be disqualified and checks appropriately shredded.
Will books published in 2015 be competing against books of the same year, or against all books for 2015 and 2016 with one award/winner?
All books that are copyrighted/published from Jan. 1, 2015 to Dec. 31, 2016 are eligible and will be judged in their appropriate category. Each category will have one winner in 2017.
This is the last hardcover copy of my book; can I request my book to be returned if it doesn't qualify?
All submissions become the property of SDBA. And remember, you must send three copies of any book or manuscript entered.
Can I request a list of the winners?
No. The list of winners will be posted on the website at the conclusion of the ceremony.
I don't like having my picture taken–do I have to?
Please be aware that your entry to SDBA is an automatic agreement that all photos and facsimiles of your person taken at SDBA events are SDBA property.
I would like to use the winner decal stickers on my book cover imprint. Is this allowed?
No. Only the actual sticker is to be placed on book covers. Please use the form below to contact us for purchasing details.
Is it possible to contact the judge personally who critiqued my book?
If you request it, we will ask the judge to contact you, but contacting you is at the judge's discretion.
Why do I have to send in three copies of my book/manuscript and why aren't my published books returned?
Each entry, published or unpublished, is evaluated by three separate judges. Published books are not returned as we do not have the staff or money for postage to collect them from the judges. Most contests do not return entries.
How are the unpublished manuscripts/published books judged?
Judges in every category are instructed to evaluate each entry on its own merit and not to compare it to other books/manuscripts they are judging.
The judges do know the names of the authors of the books, but not the manuscripts. The unpublished category is a blind evaluation which means the judges do not know the name of the author. Since author names are on published books, judges are instructed to let us know if they are familiar with the author and we will have them judge another entry.
What if I ask my entry to be judged in a certain category and there are not enough entries for that category to be included in the judging?
We will do everything we can to ensure your book is judged in the category you requested. However, occasionally we do not have enough entries to include a category in the competition. In that case, we will include your entry in one that is closest to the one you requested; i.e. if you requested "contemporary fiction" and we have only two entries in that category we may move it to "general fiction."
How do I become a judge or volunteer for SDBA?
Last updated February 2, 2017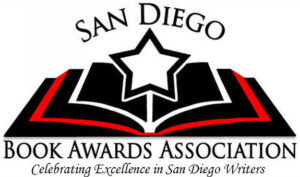 Got a question? Need more explanation? Send us a message – sdbookawards@gmail.com!