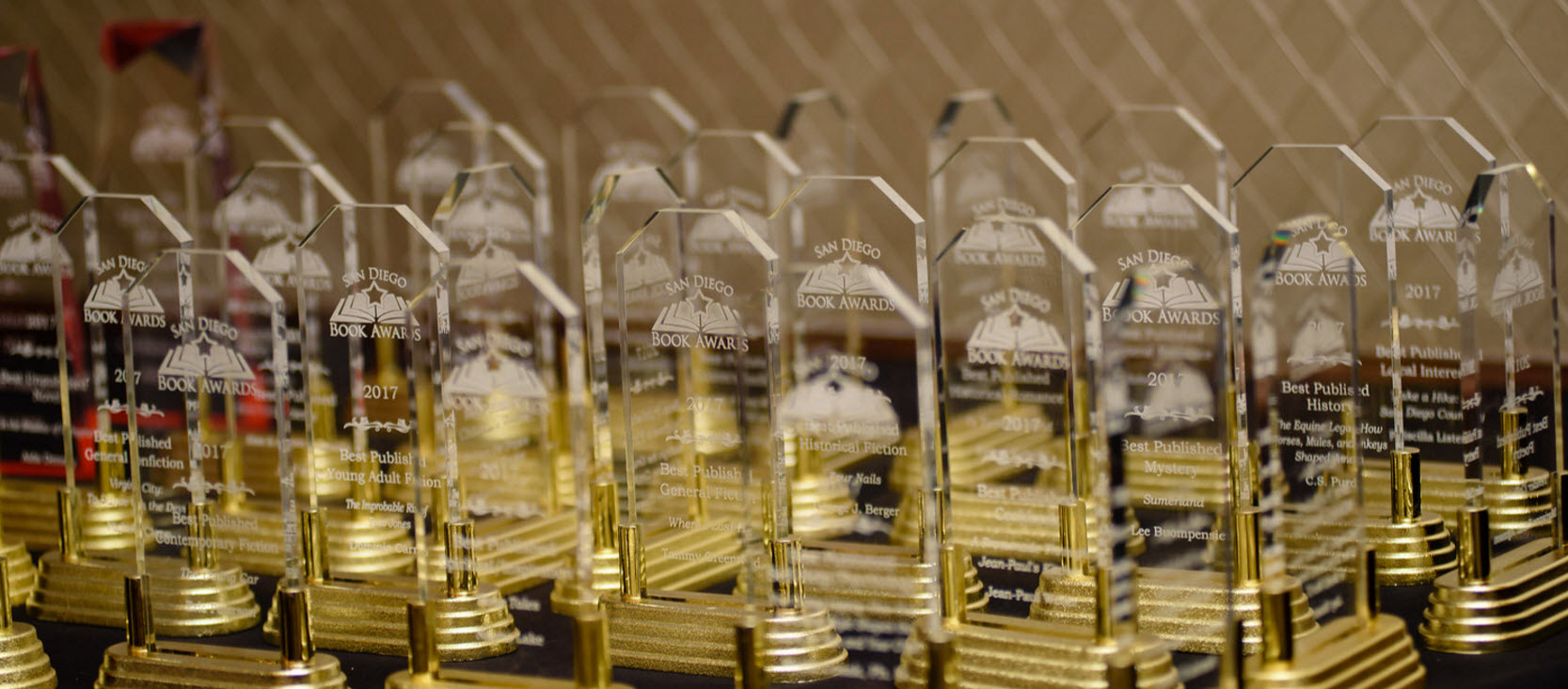 Here are your 2020 San Diego Book Awards Finalists*!
Children's Fiction
Nancy & Julia Glen    Encinitas Adventures
Suzanne Lowe    The Pirate Princess and the Golden Locket
C.R. Stewart    Britfield and the Lost Crown
General Fiction    
Theodore Axehandle    Bonvoyage
Dominic Carrillo    The Unusual Suspects
Susan Daniels    The Genuine Stories
General Nonfiction
Darren Diess &  Michelle Gilmore    Eventology: The Science Behind Nonprofit Fundraising
Melody Kramer    Lawyers Decoded
Richard Louv    Our Wild Calling
Magic Fiction
C. A. A. Allen    Into the Game: Dungeon Crawl Quest
Blaine Readler    Earth Log
Mystery/Suspense Fiction
Matt Coyle    Lost Tomorrow
Carl Vonderau    Murderabilia
Published Poetry
NO FINALIST – Winner announced June 15th
Wellness Nonfiction
NO FINALIST – Winner announced June 15th
There were two recommendations for the
Theodor Geisel Award (best overall published entry). 
*There were no unpublished finalists for this year's contest, there will be no Chet Award. Those who have submitted SASEs will receive their forms in the mail starting in July. 
---
And now some quick announcements:
The San Diego Book Awards will still be sponsoring tables at the
2021 San Diego Writers Festival!
Once they secure a date, we will be sure to share that information. SDBA is a proud participant and sponsor, and we're excited to be a part of what they are doing!
---
We are also proud sponsors of the Canyon Crest Academy Writers' Conference.
Canyon Crest Academy held a virtual writers conference in May of this year and will be using their sponsorship funds for 2021. Way to go, CCA!
---
The 2020-2021 San Diego Book Awards Entry Submission Dates are available. 10/1/2020-12/31/2020. See our website for submission guidelines and details.
For the Published Contest, we are accepting entries published in 2019 or 2020.
Thank you again to all of you who participate, judge, and otherwise volunteer for the San Diego Book Awards. Now more than ever, we recognize your efforts, and we are most grateful.
Sincerely,
San Diego Book Awards Association