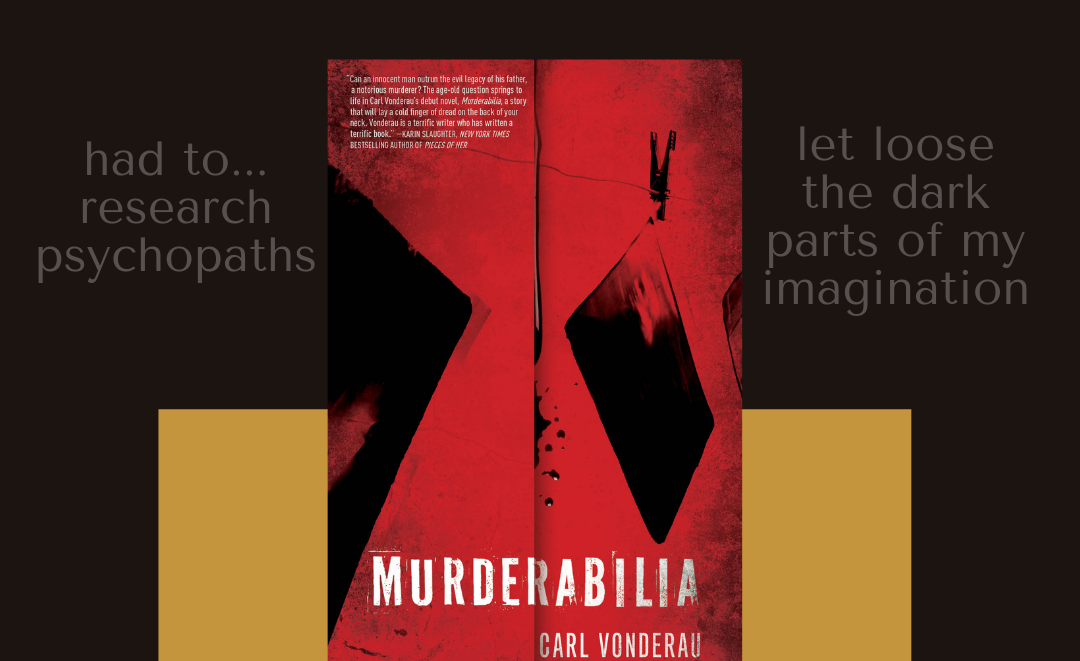 Writing award-worthy crime fiction requires more than blood and carnage. The best authors delve deep into the psyche of the most disturbed people on the planet and pepper it with their dark imagination and experiences to cook a terrifying stew.
The San Diego Book Awards proudly presents an interview with Carl Vonderau.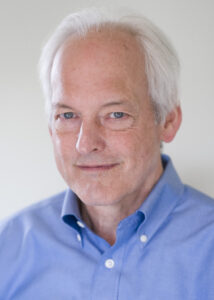 In this interview, Carl Vanderau unveils how he tapped into the wicked depths of the criminal mind, his experience, normal interests, and the dark parts of the creative process to write his first mystery/suspense novel, winner of the 2020 SDBA Award in Mystery/Suspense Fiction.
---
Inspired to Help Others
SDBAA: What inspired you to write this award-winning book?
Vonderau:  When I write, I combine my own personal experiences with something I want to know about. My whole business career was in banking, so I decided to write a thriller in the financial industry. That doesn't sound too promising, does it?
But secrets enliven any profession. I wondered what secret a banker for the very wealthy might have that he wouldn't reveal to anyone. What if his father was a famous serial killer, and no one knew that he was the monster's son? That led to more questions. What would make the father creepily notorious?
I was always interested in learning more about photography, so I decided to have the father take pictures of his victims. I tweaked the concept more by making the father's photographs so well composed that they were all over the internet.
Suppose his father was arrested when my protagonist was a child, and he hasn't seen his father for thirty-one years. Then I threw in some of my own childhood experiences as a Christian Scientist. Suppose my protagonist's mother was a fanatical follower of that religion, and that she believed she could not only heal physical illness but evil.
That stew had good potential. But first, I had to learn more about black and white photography, as well as the lives of actual children of serial killers. The research gave me more ideas.
Finally, I needed to think of an incident to force my banker protagonist to both face danger and to reconcile with his past. What if a stranger threatened to publicly expose who his real father was? What if that stranger copied his father's murders? Now I was ready to let loose the dark parts of my imagination.
Schedule Your Writing and Develop Your Characters
SDBAA: For the aspiring author yearning to write excellent mystery/suspense fiction, can you share your writing process?
Vonderau: My writing process has changed during the pandemic. I used to write quite a bit at coffee houses. Not anymore. Now I start in my home office at 7:00 in the morning and work until about 9:00 or 9:30 in the morning. I exercise around the neighborhood and come back to have breakfast and work until 1:00. Another break and then more writing until about 6:00. This all sounds onerous, but I manage to find lots of distractions and procrastination throughout the day. Night is for dinner with my wife, news binging, and reading. I write seven days a week, but fewer hours on Saturday and Sunday.
Crafting the story is another process. My first step is to outline at least three acts with major twists. At the same time, I do background bios and characteristics for each of my characters. This part is tedious and difficult but necessary. Of course, all this early work gets changed quite a bit while I'm writing the book.
Slice Deep into Your Characters, and Cut the Excess
SDBAA: What was the hardest part of writing Murderabilia, and how did you overcome it?
Vonderau: There was more than one. The first difficulty was voice. The book is in first person, which means the narrator must be strong, distinctive, and sympathetic. By nature, first person is unreliable, so I also had to find the balance between what that person would hide and what he'd reveal. I overcame it by re-writing and by reading my text out loud.
Another problem was that the father and the villain were serial killers. I didn't have any personal experience to guide me there, which meant I had to get in the mud and research psychopaths. As characters, they had to have motivations, as well as both positive and negative qualities. This wasn't something I talked about with my wife at the dinner table.
Lastly was the challenge of length. The book was far too long. The only solution was to cut one of my favorite characters. But he's in the next book.
Vomit Your First Draft, Uncover Your Scenes, and Keep Moving
SDBAA: One of the biggest challenges for aspiring authors is to finish writing their first draft.
What do you do to stay productive and focused?
Vonderau:  The most important thing is to sit down somewhere and write every day. One of my writer friends calls that first draft vomiting. You have to be free to explore, to find the focus of a scene, and to cut out the parts that don't work.
My mind feels freer when I write the first draft of a scene by hand on a yellow pad. I try to get it down as fast as possible so that my internal editor is turned off. It's best when the scene feels ahead of me, and I'm trying to scribble fast enough to catch up. Much of the first draft may be just dialogue, but I can fill in the visual and interior elements later. In that first draft of a scene, I want to feel hidden agendas and a change happening. The scene should raise a question to propel the reader on to the next one. I get down 5-15 pages and then put that draft (if I can read my writing) into the computer. That's the first edit, and I can eliminate parts or expand them as I type. Maybe I do one more edit of a scene, but then I try to let it go and keep moving. A day is productive when I've got at least a thousand new words.
Writing is re-writing, but I'm constantly fighting with myself not to do too much of it until I get the first pass of the book done.
Focus on Structure and Get Feedback
SDBAA: What advice can you give current and aspiring authors about writing an excellent book in your genre?
Vonderau: Two pieces of advice. First, make sure to think about structure. Each scene in the book must contribute to the overall architecture of acts, subplots, character development, and pacing. Keep revisiting the outline throughout the writing process to make sure you keep your big picture on track. The outline is a living thing and will constantly change. My best twists for the outline occur to me while I'm writing.
The second absolutely crucial point is to get good feedback before you submit. I'd advise a writing group and an editor. Take advantage of writer's conferences where editors, agents, or other writers will review pages of your manuscript. Most authors think their books are ready when they're not. I certainly did.
Closing Thoughts
Carl's insights underscore how the best authors commit to writing, researching, and perfecting their craft. He is also living proof that first-time authors can be the best in their genre if they are willing to invest the time.
---
About Carl Vonderau
Like the protagonist of Murderabilia, Carl Vonderau was a private banker who grew up in a religious family. His banking career has taken him to the U.S., Canada, Latin America, and North Africa. Now a full-time writer, Carl also devotes his time to helping nonprofits. He lives with his wife in San Diego. Murderabilia is his first published novel and won three awards, including the San Diego Book Award for Best Mystery/Suspense Fiction. His first published story, "A Killing in Bogotá," appeared in Partners in Crime's Crossing Borders anthology.
---
About Murderabilia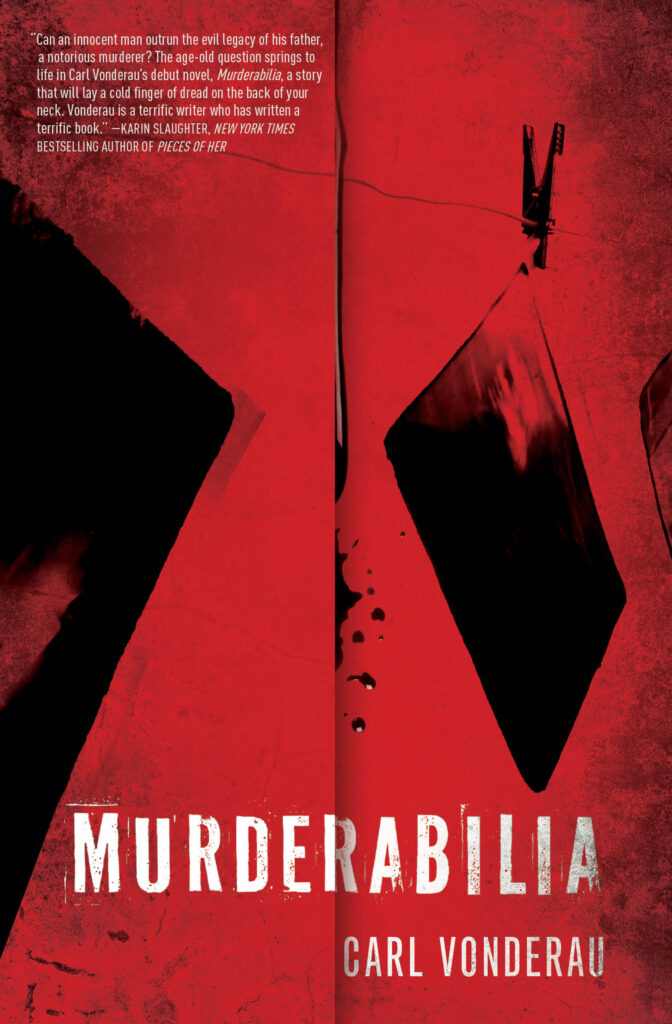 Everyone has heard of The Preying Hands and the photographs of his victims' bodies. But no one knows that William McNary is The Preying Hands' son. Until a phone call tears apart his anonymous life.
---
About the San Diego Book Awards Association
The San Diego Book Awards Association supports and recognizes published and unpublished authors with our annual competition.
Ready to Compete for a San Diego Book Award?
The submissions window for the 2021 San Diego Book Awards competition is from 10/1/20 to 12/31/20. For more information, please visit our submissions page.
If you are interested in participating as a judge, please visit our judging page.